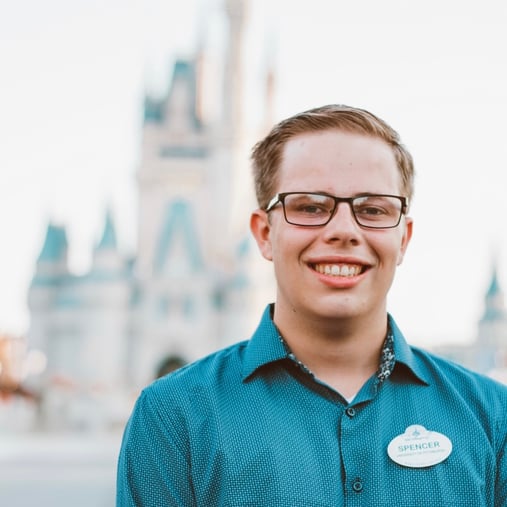 "All our dreams can come true, if we have the courage to pursue them." - Walt Disney
For Pitt alum Spencer Zacher (SSOE '20), this quote couldn't be any more accurate as he got to live out his dream of working at Walt Disney World as an Industrial Engineering intern! Follow along as Spencer shares his magical experience of what it was like working at the happiest place on Earth, what Disney has taught him about innovation, and what advice he has for those interested in pursuing innovation and entrepreneurship!
How did you get involved with innovation and entrepreneurship while at Pitt?
Getting involved with the different programming and events held by the Big Idea Center was one of the best decisions I ever made. It pushed me to meet people outside of my bubble, take classes outside of my major, and think about problems in an entirely new light. I participated in events like the Big Idea Blitz and the Randall Family Big Idea Competition, and greatly enjoyed every class I took to complete my Product Design, Innovation, and Entrepreneurship Certificate. One of my favorite classes was The Art of Making, where my team designed and built a device that aimed to bridge the technology gap between generations and reduce senior loneliness during the pandemic. This was one of the most rewarding projects I have ever worked on. Every user and stakeholder we worked with was extremely excited that we were working to solve such an important issue. The "LinkPad" project certainly felt like a great culmination of my experiences with innovation at Pitt.
Collaborating with students, professors, and the Big Idea Center's entrepreneurs in residence (EIRs) has truly made me a better engineer and designer. My experiences through different projects (both personal and school related) has developed my ability to not only be a better problem-solver, but a better "problem-discoverer" too. I currently work in manufacturing operations with MSA Safety, and I ask myself daily - who are my customers/users and how can I improve their experience? Most often my customers are the operators who manufacture our products, and I take great pride in innovating solutions to make their daily work safer and more efficient.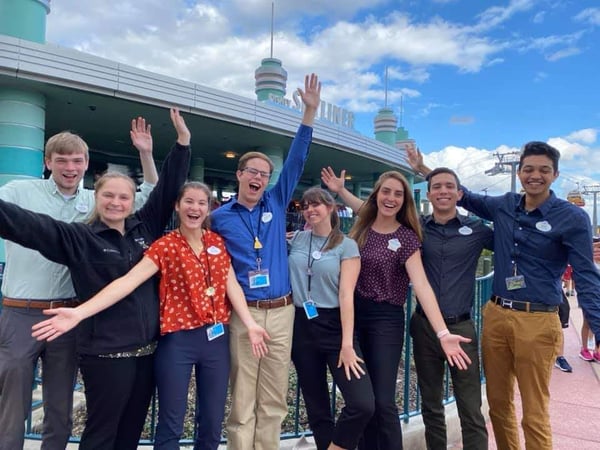 Photo courtesy of Spencer Zacher
What inspired you to pursue a Disney Industrial Engineering internship?
I've always loved going to theme parks as a kid. When I was in high school, learning about the physics behind roller coasters made me want to pursue engineering so that I could use math and science to design incredible experiences. I eventually declared into Industrial Engineering, and while we don't specialize in the science needed for roller coasters, we do have a lot of highly desirable skills to help theme parks run smoothly. After listening to a Disney IE speak in our IE Department seminar, I knew that working with their team was an absolute dream job of mine.
How difficult was it to land an Industrial Engineering internship at Walt Disney World?
The position was highly competitive and it took me a few rounds of applying before I was selected for an interview. I worked to build my resume and stand out as a candidate, but the most beneficial thing I did was network. Fun fact - Disney LOVES Pitt Engineers. So much that Pitt was the most represented school among the full-time engineers in the IE Department while I was there. You'll frequently find them in the IE Seminars telling you about their work experience and oftentimes recruiting too!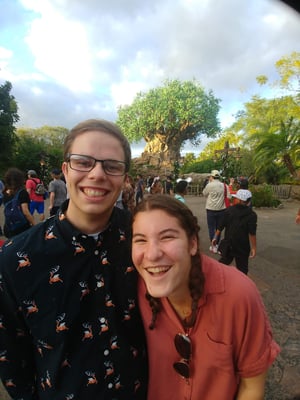 Photo courtesy of Spencer Zacher
What sorts of projects did you work on as a Disney Industrial Engineering intern?
Before I explain my project work, it's important to understand the role of an Industrial Engineer, whether it's in manufacturing, retail, healthcare, or theme parks! Most people associate engineers with designing things - bridges, medical devices, gizmos, gadgets, the list goes on... At the root of all engineering disciplines, it's all about solving complex problems using both technical and creative approaches.
Rather than designing things, Industrial Engineers take a different approach and design processes and methods. We use our skills in data analytics, probability and statistics, and creative problem solving to make operations efficient, predictable, and effective. Disney's Planning and Industrial Engineering Department focuses on giving valuable insights to different business and operations areas by telling stories with data, simulation and modeling, and qualitative observations.
Industrial Engineering at Disney goes much further beyond making sure the Guests have the best possible experience in the parks. The team plays a role in improving the Guest experience by supporting areas such as: Resorts, food and beverage, merchandise, security, parking, transportation, maintenance, and so much more! The team acts as internal consultants to all of these client areas. The entire department is very hands-on but also dives deep into the data behind Disney World.
My project work focused mostly on the resorts, transportation, contact centers, and the ESPN Wide World of Sports(WWoS). I performed a lot of data analytics to develop work measurement metrics for the resorts and benchmark their staffing levels. With WWoS, I used large data sets to analyze Guest arrival rates and develop a predictive model for demand at the box offices during different sporting events. Understanding how labor needs changed from a soccer tournament to a basketball game enabled the WWoS team to accurately schedule their staffing while also keeping wait times to a minimum.
My five month internship was filled to the brim with exciting projects and grand openings. My first week, it was all-hands-on-deck for the grand opening of Star Wars: Galaxy's Edge (Disney World's Star Wars themed land), and the Millennium Falcon: Smuggler's Run ride. The entire team of interns assisted in data collection, time studies, Guest observations, and a lot more! Later in the term we also supported the opening of the other Star Wars ride - Rise of the Resistance. The Land and both these rides were a dream come true for me and countless Star Wars fans!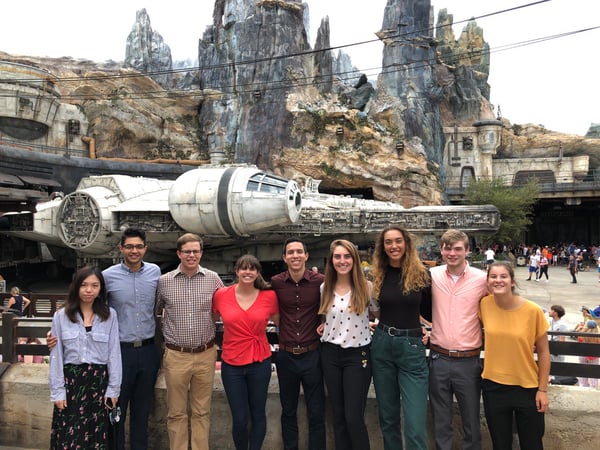 Photo courtesy of Spencer Zacher
Later in the term I was able to support the opening of the Disney Skyliner, a gondola system that transported guests between Epcot, Hollywood Studios, and a few resorts. We did a lot of hands-on analysis and data collection to look at best practices for loading the cabins and understanding what our actual capacity for this new transportation system was. My work experience in manufacturing helped me understand concepts like cycle time and Lean operations, and I was able to apply it to an entirely different application!
During the last month of my term, I had the privilege to be the engineer supporting the Grand Opening of the Riviera Resort. It's not every day that Disney World opens a resort, so to work independently on this project was certainly the highlight of my internship experience. I was tasked with developing and recording both quantitative and qualitative metrics to analyze a variety of different aspects of the Guest experience. After working closely with the front-line Cast Members and collecting data, I developed high level reports for the resort's management team on various best-practices and opportunities for improvement. The client especially wanted me to understand what the Guests' arrival experience was like and what could be done short-term and long-term to improve that experience. I couldn't have asked for a better culminating project at the end of my term.
What was the most rewarding thing about your experience working at Walt Disney World?
Every single project I worked on was rooted in improving the Guest experience, from the minute they booked their vacation, to the moment they arrived and checked into their resort, to their experiences at the parks. I saw both the back of house operations and the incredible front-line Cast Members that play a part in creating life-long memories for all types of people from all over the world. Being a part of that was the experience of a lifetime.
While working with my team members and clients, I always felt that my input and opinions were not only valued and listened to, but sought out. I think the culture of the Department and the company as a whole was vital to this. Developing the culture and environment to the point where clients seek out and trust your input isn't an easy task, and I'm thankful this was fostered well before my time there. A big part of client relations was showing that you're listening and working to understand your client's motives before offering them recommendations. It's the same with designing a product or offering a service - you can't solve the problem if you don't understand what the problem truly is. If you can listen to the needs of your users and design a solution that is centered around fulfilling those needs, you're golden.
Finally, I came to the realization that user experience is truly what I enjoyed most about the innovation and entrepreneurship mindset. With Disney, there's such a direct correlation between the work I did and how it improves the Guest experience. When the very first Guests rode Rise of The Resistance or walked into the Riviera Resort for the first time, and I saw the sheer enjoyment, amazement, and happiness that overcame them - that's what I loved most.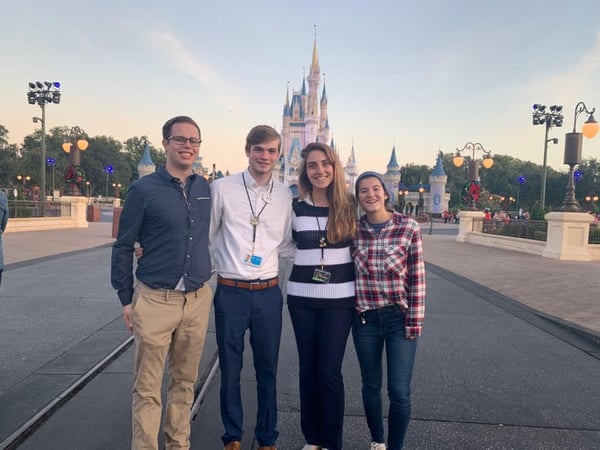 Photo courtesy of Spencer Zacher
What were some challenges you faced during your experience and how did you overcome them?
My first two co-op rotations were in manufacturing, so learning to apply my skillset and be an effective engineer in an entirely different manner was certainly a challenge. I love the field of Industrial Engineering because it can be applied to absolutely anything - manufacturing, theme parks, product design, healthcare, etc. I'd argue that while IE's do the least in terms of physical, mechanical design, we do the most in terms of human-centered thinking. We design processes - whether that means an assembly process, the check-in process at a resort, or even user experience with a product. Understanding how people play a role in a system and thinking like the user is an incredibly helpful skillset. It's a skillset that allows me to apply my engineering toolbelt to a limitless number of industries.
Another big thing for me was understanding how my projects and solutions fit into the big picture. Understanding the different constraints and factors at play while problem solving wasn't always easy. Working closely with my clients to understand what their problems were gave me a much shorter path to a solution, and ensured that I was working on solving the right problems.
What has Disney taught you about innovation?
Disney is a company like no other when it comes to being a pioneer and market leader all across the entertainment industry. Not only in theme parks, but also movies, streaming, television, and even cruises. One of the reasons they're so successful is their dedication to both solving huge technical problems in technology, construction, and design, but also taking an incredible attention to detail.
When you go to Star Wars: Galaxy's Edge, you really feel like you've been transported to another world. The movie props, the characters, the architecture, the soundscape, the green and blue milk, the treeline that blocks other sections of the park from your sight line, and even the texture of the ground that you're walking on. Every possible detail was thought of, and there were certainly technical challenges to develop this absolutely immersive experience. You don't feel like you're at a theme park; you truly feel like you're in the Star Wars universe, or on an expedition in the Himalayan Mountains, or on a cruise in the jungle (I won't live in De-Nile, my dream job is to be a Skipper on Jungle Cruise!).
I highly recommend checking out Bob Iger's memoir "A Ride of a Lifetime", where he writes about his decades working up through the company and eventually serving as Disney's CEO. He talks about the different challenges he faced and the lessons he learned in business, innovation, and leadership. The transformation of the company, especially considering the big name acquisitions like Marvel, Lucasfilm, and Fox, is deeply rooted in innovation and entrepreneurship.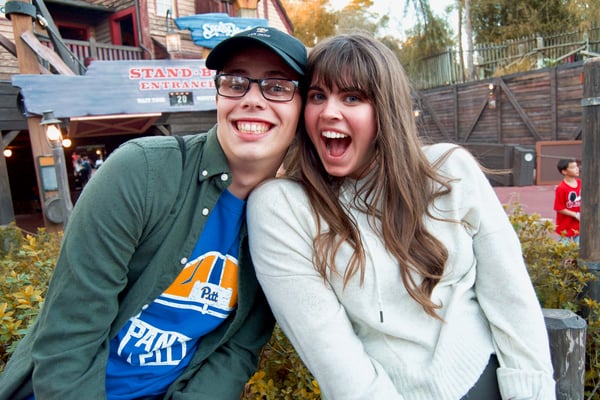 Photo courtesy of Spencer Zacher
What advice do you have for students interested in innovation and entrepreneurship?
Get out and explore; don't think you can't do something because of your major, experience, or current skills. Being afraid to put myself out there and challenge myself in new areas has always been my biggest hurdle. Time and time again, I've found my favorite and most rewarding projects come from areas that I have no experience in. Seek out these opportunities to learn something new.
Also, everything can be a moment to learn and build yourself up if you have a growth mindset. My initial project I first wanted to work on at the Randall Family Big Idea Competition (RFBIC) flopped. Our team struggled to develop the business case and the user interest for a new method of tuning a drum set. As an engineer, I was so excited to get into the details of "How do I build this?" and get into the prototyping phase. The drum tuning project taught me instead to ask "Should we build this?" or "What should we build?". Going into the RFBIC, I was eager to learn more about product design and realization. I could have felt extremely defeated after not moving on to the later rounds, but instead was extremely grateful for the new experiences I gained. While I didn't get into the product design details, I did gain incredible knowledge about customer discovery, market analysis, and problem definition.
Finally, I like to live by the motto "You'll run out of time before you run out of money. You'll run out of health before you run out of time." Take risks to get where you want to be. Take pride and enjoyment in the work that you do. And most importantly, take care of both your mental and physical health. Yes, financial responsibility is important, your life isn't over after your 20's, and a bit of stress can be good. That being said, there's no time like now.