Transcriptional Therapy Startup Seeks to Coax
Failing Liver Cells Back to Health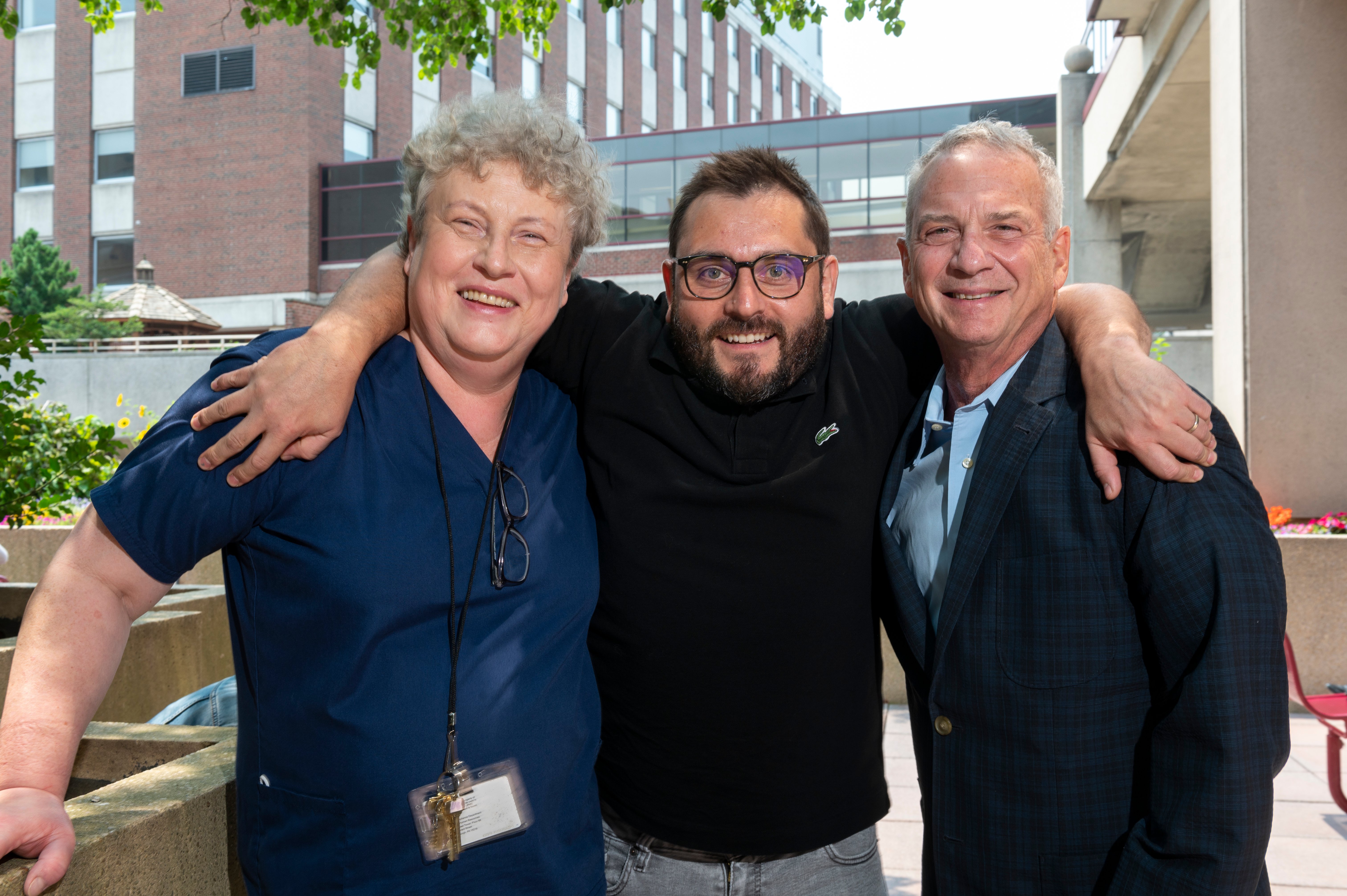 (L-R) Alina Ostrowska, Alex Soto-Gutierrez and Ira Fox, co-founders of Pittsburgh ReLiver Inc.
Ira Fox trained in organ transplantation in the early 1980s under the tutelage of the legendary Dr. Thomas Starzl, and spent the next two decades performing hundreds of transplant surgeries.
But all the while, Fox continued pursuing research that he hoped could someday put transplant surgeons like himself out of business.
That day may be on the not-so-distant horizon.
Fox, professor of surgery at the Pitt Medical School, and his protégé, Alejandro Soto-Gutierrez, have published a new paper demonstrating that they can regulate the production and function of proteins from a "master regulator" of human liver cells in-vitro to improve the function of such cells for patients suffering from terminal liver failure.
"What we are doing is transcriptional reprogramming of the liver cells. We are going to substitute liver transplantation with supplementing gene regulation and function to fix the cells of the liver," he said.
Soto-Gutierrez said that their approach is similar to a vaccine. Rather than introducing new genetic material, their technology promotes the expression of genes that are already inside the cell, but which have been down-regulated by disease. A key element for the evaluation of this transcriptional reprogramming therapy was getting access to liver cells from patient's failing livers. That's when Fox recruited Alina Ostrowska, a global expert with more than 25 years of experience in conducting human organ cell processing who has performed several thousand liver cell isolations.
The three have launched a startup company, Pittsburgh ReLiver Inc, around their discoveries and after obtaining seed funding are now talking to and seeking additional investors that can help them prepare for human trials.
Fox said he recruited Soto-Gutierrez from Harvard, after he had worked on his PhD in Japan with one of Fox's former trainees. Before long Soto-Gutierrez obtained a tenure track position in the Pitt School of Medicine's Department of Pathology where he continued work on stem cells and cell therapy to treat liver disease.
Fox said that their work first appeared on the radar in 2014, when they demonstrated in the Journal of Clinical Investigation that their strategy worked at reversing end-stage liver failure in rodents. The work added another chapter to the growing body of research around repairing cells and tissues from the inside out.
Fox said that the concept they are pursuing with degenerative liver disease could translate to the treatment of other forms of organ failure, from heart to kidney to lung and beyond.
"This is a new era and we are in front of it," Soto-Gutierrez said. Regulating the function of master transcription factors that control the most important genetic programs and functions of specific organs could make transplants a thing of the past in the next 10-20 years. "The trend is to supplement gene expression and function. We are applying this new technology to affect the natural way the body works, and to find new ways to force it to produce the proteins that are needed for healthy tissue and organ function."
Soto-Gutierrez said Pitt/UPMC and Pittsburgh ReLiver Inc are uniquely positioned to be at the forefront of transcriptional therapy, but more work needs to be done to coalesce and focus all of the resources that the University and UPMC possess in genomics and metabolomics in order to discover disease targets in other organs.
If you are a Pitt innovator with a discovery that may have the potential to built into a startup, contact us as innovate@pitt.edu for a consultation with one of our entrepreneurs in residence. If you are an investor or entrepreneur interested in learning more about Pittsburgh ReLiver and other promising Pitt startup opportunities, reach us at partner@pitt.edu.