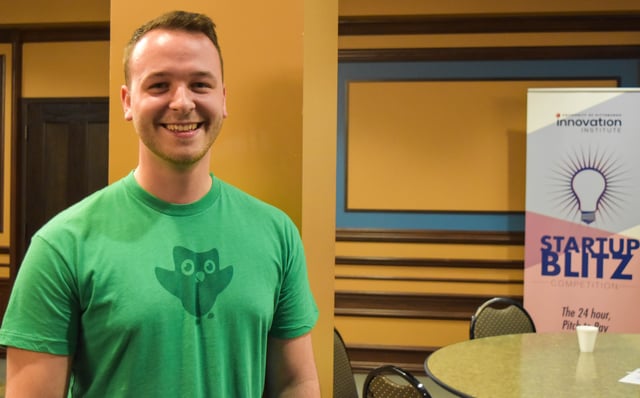 Max Polec was an Innovation Institute intern and participated in numerous student entrepreneurship programs while at Pitt. He was recently named the inaugural director at the University of Alabama Birmingham Commercalization Accelerator.
By Max Polec
It started when I was 15 years old. I had to start saving up money ... and a lot of it ... if I was even to come close to affording to pay for college. I had crunched the numbers and estimated how much I would need stowed away if I took a part-time job throughout high school. It would not even close to the amount that I would need. I decided to do what I knew best: build.
I took the lawncare equipment that my dad so graciously let me use (and break several times) and started Polec Landscaping with my older brother. I slowly scaled this venture for six years. The profit from Polec Landscaping paid for the majority of my college costs as well as a good portion of my younger brother's.
With the money I had earned, I attended my number one university: the University of Pittsburgh. In my sophomore year at Pitt, I got heavily involved with the Innovation Institute. The same instinct that drove me to start Polec Landscaping was renewed through the various startup competitions and entrepreneurial programs that would come to define my time at Pitt.
I was a part of multiple diverse teams that worked on anything from mobile apps to medical devices. I was doing what I loved in a supportive university ecosystem with peers and mentors that challenged me to perform at my best.
The most invaluable program from Pitt's Innovation Institute that I completed was the Blast Furnace Student Accelerator. My team took a broad idea, narrowed it down over the course of 8 weeks, identified how our product provided value, who our customers were, and how we were going to actually make money. I also got to learn from industry experts in law, finance, entrepreneurship, and marketing. With a hyper-focus on business development and continuous access to mentors, my team truly accelerated. The Blast Furnace gives students an opportunity to truly taste entrepreneurship.
Through the Innovation Institute I discovered the entrepreneurship fellowship program that I am now completing, Venture For America (VFA). I attended a screening of "Generation Startup" that followed multiple VFA Fellows as they undertook the painful but rewarding task of building their own startup. I knew instantly that this fellowship was made for people like me.
VFA is a two-year program for recent college graduates who want to work at a startup and create jobs in American cities. Fellows participate in a five-week Training Camp, apply for jobs within the organization's vetted company network, and work for two years as full-time, salaried employees in one of 18 cities. When Fellows are ready to start a company — be it two years after college or ten— VFA has the resources to help make that dream a reality.
I applied and was accepted into the fellowship in February of 2017. After interviewing for different entrepreneurial opportunities, I accepted an offer from the University of Alabama at Birmingham to be the first director of its UAB Commercialization Accelerator.
Birmingham is a very exciting place to be for anyone who wants to make a difference, especially in the startup community. The UAB Commercialization Accelerator's goal is to support students, faculty, and staff that have business ideas with commercial potential. We launched on August 21, 2017, and are very much treating the accelerator like a startup. We have hypotheses that we will test and iterate upon as we learn more and more about how we can provide more value to UAB students, faculty, and staff. The goal is to create a positive impact not only for UAB, but for the city of Birmingham, measured by startups that spin out of the program and create jobs, or through the entrepreneursip skills that students will build during their tenure at UAB.
It is critically important to say that I would not be where I am today without the support, guidance, and mentorship of many. Specifically, I want to thank Jennifer Ireland for being a great supervisor when I interned at the Innovation Institute; each of the Entrepreneurs in Residence (John Riley, Mary Beth Green, Don Morrison, and Jeanine McCreary) that I met with on multiple occasions to hash out startup ideas I was working on, and Alan Martello and Greg Coticchia, whom I maintain contact with as they help guide and mentor me from afar.
If you are a student considering the Blast Furnace, do not hesitate: apply.
Applications for the fall 2017 cohort are due September 18, 2017.
Similarly, if you are graduating soon and want to pursue an entrepreneurial venture, check out Venture For America.