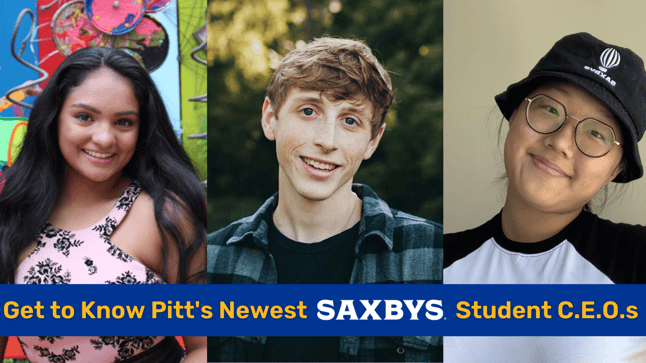 In celebration of all Pitt Saxbys cafe locations opening on Monday, August 29, get to know the Pitt and College of Business Administration students who run them! In our newest blog post, Pitt Saxbys Student C.E.O.s Shivani Gandhi '25, Dylan Minnick '24, and Maggie Yu '25 (pictured above, left to right) talk about their Saxbys experience and lessons they've learned so far, what their favorite Saxbys menu item is, what things they're looking forward to this semester, and more!

1. Tell us about yourself!
Shivani: "Hello! I'm Shivani Gandhi. I am a sophomore Finance major and Economics minor. I'll be the new Student CEO for the Cathedral of Learning Cafe!"
Dylan: "Hi! I'm Dylan Minnick, I will be a junior Marketing and Supply Chain Management major in the fall semester. I will be the Student C.E.O. at the Hillman Saxbys this semester."
Maggie: "Hey! I'm Maggie Yu and I am a Marketing and Finance major. In the fall semester, I will be a sophomore and will be Student C.E.O. of the Saxbys cafe at the Big Idea Center on Forbes Avenue."
2. What made you interested in working with Saxbys/becoming a Saxbys Student C.E.O.?
Shivani: "I decided to pursue this opportunity because I knew that the experience gained from the Saxbys ELP (Experiential Learning Platform) would be invaluable compared to any classroom learning experience. Especially as a sophomore, the ELP would equip me with more forward-thinking skills that I can apply to the rest of my college career and in the real world."
Dylan: "I have been surrounded by entrepreneurship my whole life, with my father owning a beer distributor and my grandma owning a restaurant. Owning a business is something that I aspire to do in the future. I believe that the opportunity as Saxbys Student C.E.O. will give me unparalleled experience that will aid me in my future endeavors."
Maggie: "I became interested in working with Saxbys because I realized what a great opportunity this was as a business major. I also have a *slight* addiction to coffee, which was definitely a factor that encouraged me to apply! Overall, I am very excited about the lessons and experiences that I will gain from this position with Saxbys."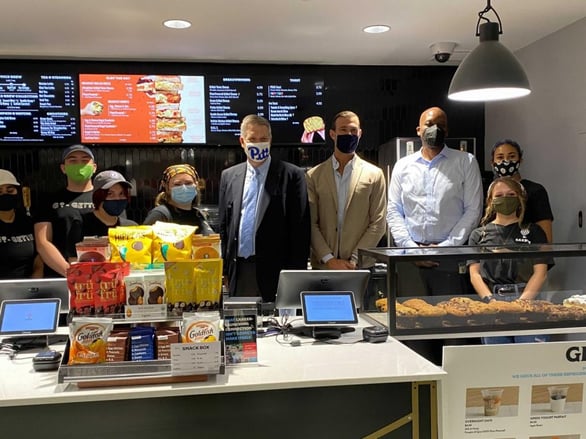 3. What's been your favorite part about being a Student C.E.O. so far?
Shivani: "So far, getting to know all the other Student CEOs has been one of my favorites. Meeting new people from all over the country with different backgrounds, traditions, etc. has been a great way to expand my horizons. During our training in Philadelphia this summer, we got to explore the city, try new foods, and get closer with each other! It feels good knowing I have a tight-knit support circle in my back pocket!"
Dylan: "My favorite part about being a Student C.E.O. so far has been the opportunity to travel and work at all kinds of different Saxbys cafes and at the HQ in Philadelphia. Meeting so many different members of Saxbys organization has put into the light the impact and magnitude that this company has."
Maggie: "My favorite part is slowly learning the behind-the-scenes of how a business/cafe is run. Being a part of that is such a wonderful and new experience to me and I'm already learning so much."
4. What important lessons have you learned while working for Saxbys?
Shivani: "One of the most important lessons I've learned is to communicate openly and clearly. Communication is key, and sometimes it is best practice to "over-communicate" in order to make sure everyone is on the same page."
Dylan: "I have learned the importance of staying organized, prioritizing tasks, and how to effectively communicate in an organization."
Maggie: "I've learned a lot about the many different factors that go into every aspect of running Saxbys. That led me to work more on my time-management because I know that there are people on the team relying on me to get something done. Working with other people is definitely a skill that I've also gotten to develop throughout my experience and I really love the journey so far."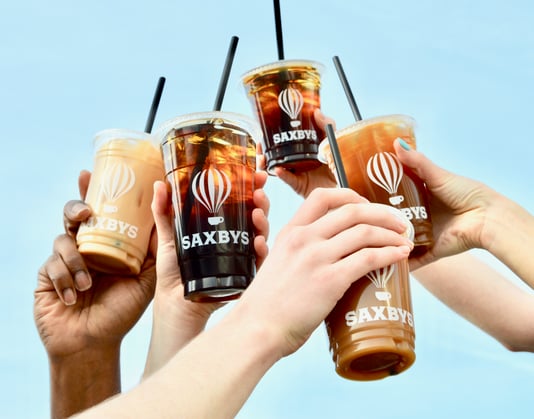 5. What's your favorite Saxbys menu item?
Shivani: "It is impossible to have one favorite item on the menu, so I'll share some of my favorites. I absolutely love anything with matcha and any of our Cold Brews (especially the Chai Cold Brew). And when they're in season, I enjoy the Pumpkin Cold Brew and the Dark Chocolate Peppermint Mocha!"
Dylan: "My go-to Saxbys menu item is the Vanilla Bean Cold Brew with a shot of the Sweet Mint syrup and oat milk."
Maggie: "My favorite Saxbys menu item is definitely the iced Matcha latte and vanilla latte. Even though I've been an iced coffee person for the LONGEST time, the matcha latte is a must have whenever I go to Saxbys."


6. In my free time, I like to: _____
Shivani: "cook and a do little self-care. I also spend a lot of time with my Acappella group, Tonal Disruption!"
Dylan: "explore the city, try new restaurants, visit art museums, and go to the different parks around Pittsburgh."
Maggie: "read books, watch Netflix (I've recently started watching Gilmore Girls and rewatched Purple Hearts twice!), and being an UberEats driver to earn some extra money during school breaks."
7. What are you looking forward to this semester?
Shivani: "This semester, I'm looking forward to all the Saxbys LTOs (Limited Time Offers) -- I can't wait for Pumpkin everything this fall and miss the Dark Chocolate Peppermint Mocha so much! I also look forward to attending Tonal Disruption auditions, fall retreat, and start preparing for ICCAs (our competition) in the Spring."
Dylan: "I am looking forward to getting to know the team at the Hillman Saxbys, connecting with the Pitt community, and further strengthening my business management skills."
Maggie: "The biggest thing I'm looking forward to is working with my team to 'Make Life Better'! I am so excited to see what impact my team and I can make to the Pitt community and to the guests that come to our cafe. Each day is a new experience to me and I find working with Saxbys to be such a valuable opportunity."
All Pitt Saxbys Cafes Open for the Fall Semester on August 29, 2022
Looking to get your coffee fix on campus? Stop by a Saxbys cafe at the following places on campus starting August 29:
Interested in Becoming a Pitt Saxbys Student C.E.O.? Saxbys is Now Accepting Applications for Spring 2023
As the S.C.E.O of a Saxbys café for six-months you will gain invaluable experience operating a café, developing a team, becoming a community leader, and an expert in business fundamentals. You will have the full support and resources of the Saxbys team, however you will have unparalleled ownership of the entrepreneurial process of operating this business.
To learn more about the Student C.E.O. position and to apply, click the button below.
Connect with the Pitt Saxbys Student C.E.O.s on LinkedIn!