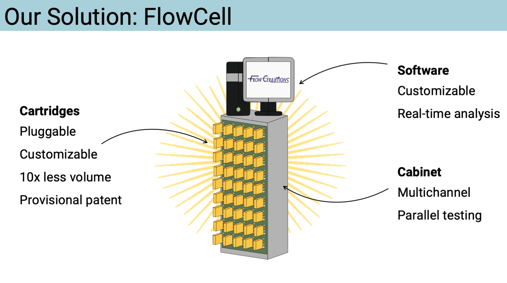 How can a battery cell reduce climate change? (And what do orca whales have anything to do with it?) In this blog post, we're catching up with Becca Segel, a Pitt Chemical and Petroleum Engineering PhD student and CEO of FlowCellutions, as she delves deeper into how her idea answers these questions as well as shares her entrepreneurial journey with the Big Idea Center and advice for students interested in innovation!
What is your idea?
Our idea is a battery testing device, which we envision will become the gold standard within research and industry, and revolutionize grid-scale energy storage. Improving energy storage technologies is a necessary component to significantly decrease climate change. Redox flow batteries (RFB) are a competitive technology for grid storage because of their scalability and potential for using low-cost, non-flammable materials, but there exists technoeconomic limitations with RFB testing. These limitations have pushed flow battery research into a new phase of materials discovery that is not adequately supported by existing testing methods. Specifically, the way RFB chemistries are currently tested involves running no more than a few experiments at a time. If testing technology has a greater through-put and lower cost, more successful chemistries can be rapidly discovered and contribute to decreasing the cost of RFBs. We at FlowCellutions are developing a device called the FlowCell, a testing system to speed up RFB materials discovery and find inexpensive chemistries to support the increase in RFB commercialization.
What inspired you to pursue entrepreneurship? (Or: what is the inspiration behind your idea?)
Orca whales are the motivation behind my pursuit of fighting climate change. Their habitat is being quickly destroyed by global warming, and I am inspired to attack this issue at the root by decreasing carbon emissions. With redox flow batteries on the grid, renewable energy can become economical and capture the energy generation market, thus decreasing the amount of carbon emitted by fossil fuel generation plants. Entrepreneurship is the best way to push energy storage to the market quickly to start fighting climate change.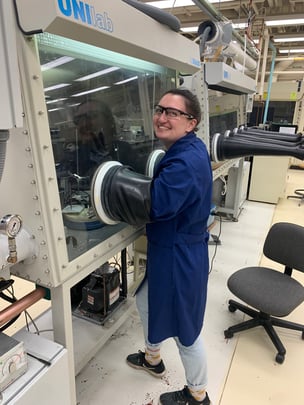 How did you become involved with the Big Idea Center?
My co-advisor, Dr. Chris Wilmer, is an entrepreneur and encouraged our lab members to compete in the Big Idea Blast 24-hour competition last year. Brian Day and I won this competition with his startup idea, Health-E-Nose. The Health-E-Nose device can identify any disease from a breath sample using an impressive collection of specialized materials called metal organic frameworks. This experience was indispensable and inspiring for starting FlowCellutions.
What's been the most important lesson you've learned along your entrepreneurial journey so far?
Don't be afraid to set up meetings for yourself with powerful people or contribute in discussions where you think you are the least important in the room.
What is your favorite Big Idea Center memory?
My favorite memory was when our team won the $10,000 grand prize at the Kuzneski Innovation Cup this past fall. This was FlowCellutions' first big win and showed us how excited others are about the FlowCell!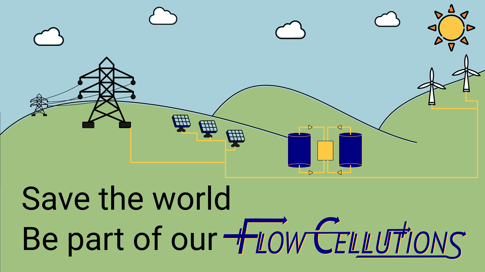 What are some goals that your idea is currently working towards?
We're currently working towards completing 100 customer discovery interviews, prototyping the FlowCell, and competing in the Randall Family Big Idea Competition!
What advice would you give to a current student that is thinking about starting their own business or wants to learn more about innovation/entrepreneurship in general?
Find some friends who are passionate about the same issue as you, and DIVE IN by doing a pitch competition!!
Anything else you'd like to share?
Our team is currently searching for an undergraduate researcher this Summer/ Fall with electrical engineering experience (electrical wiring, PID controls, passionate about energy) to help us build our prototype. If interested, please contact me at Becca.segel@pitt.edu and my co-advisor Dr. James McKone at jmckone@pitt.edu.