The Innovation Institute recently awarded grants from the Chancellor's Gap Fund to four Pitt innovation teams working on small molecule drug discovery projects. The funds will enable experiments to validate their innovations and stimulate the interest of potential external investors or industry partners.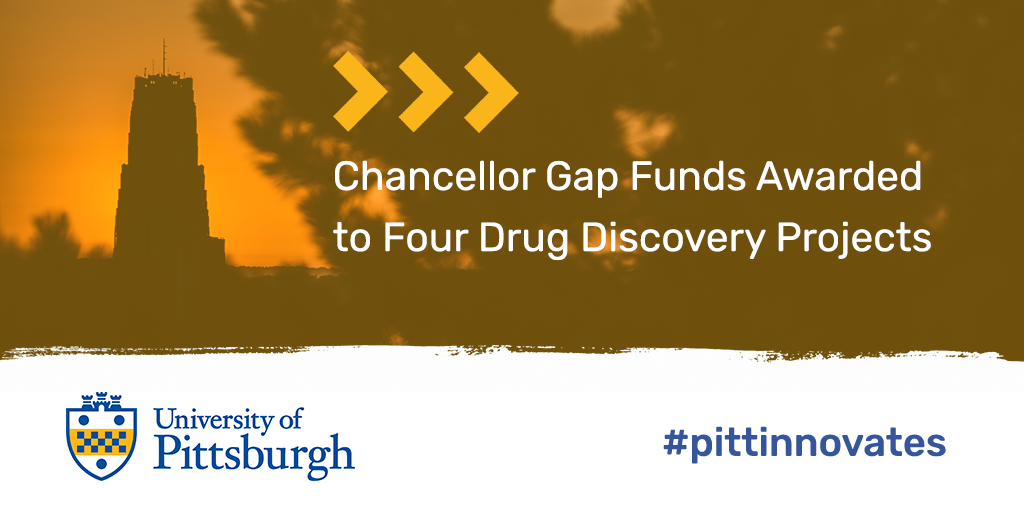 Established by Chancellor Gallagher, the Gap Fund has proven effective in moving promising Pitt innovations forward on the path to commercialization, such as the universal CAR T cell receptor system developed by Jason Lohmueller, assistant professor of surgery and immunology. Lohmueller received a Gap Fund award in 2021 to help achieve critical experiments that resulted in the licensing of the technology to Pittsburgh-based cell therapy company, Coeptis Therapeutics.
"The Chancellor's Gap Fund has been instrumental in helping Pitt innovators avoid the 'valley of death' for their innovations by providing funding for critical de-risking experiments or the development of prototypes," said Peter Allen, Executive Director, Inventor Engagement and New Ventures at the Innovation Institute.
Allen added, " We are excited about the potential for these projects and hopeful that the funding will help them accelerate on the path to market."
---
Below is a summary of the funded innovation projects:
"Optimization of Small Molecule Allosteric Modulators for Bone and Mineral Ion Diseases"
Principal Investigator:
Jean-Pierre Vilardaga, Department of Pharmacology & Chemical Biology
Collaborator:
Peter Wipf, Department of Chemistry
This team is seeking to identify and develop compounds to treat osteoporosis and mineral ion disorders such as hypercalcemia, hyperparathyroidism. The technology has been published in Nature Chemical Biology and has a patent pending. The funding will assist in selecting the best compounds for further development through in vitro pharmacological characterization, efficacy and potency optimization of the selected molecules, and validation of the optimized compound in native cells.
---
"Small Molecule Inhibitor/Degrader of BCL11a for the Treatment of Sickle Cell Disease"
Principal Investigators:

Toren Finkel, Director, Aging Institute;
Bill Chen, Professor, Aging Institute;
Yuan Liu, Assistant Professor, Aging Institute
The team is working to identify a small molecule that inhibits the function of BCL11a, which has been demonstrated to increase production of fetal hemoglobin in people suffering from sickle cell disease leading to a resolution of their symptoms. The funding will be used to validate the affinity of hit molecules for action against BCL11a and to evaluate their characteristics.
---
"Engineered Fatty Acids for Treating Chronic Liver Disease"


Principal Investigators:
Francisco Schopfer, Associate Professor, Pharmacology & Chemical Biology;
Fei Chang, Research instructor, Pharmacology & Chemical Biology
The PIs are developing structurally engineered fatty acids to treat metabolic disorders and their underlying inflammatory conditions. Non-alcoholic steatohepatitis (NASH), their primary indication, is the leading cause of liver disease with no FDA-approved treatment options. The team's lead candidate, FA-1101, showed promising anti-NASH effects in rodent models by modulating key enzymes in lipid metabolism. The funding will be used toward conducting proof-of-concept experiments to confirm the biological targets for the lead molecule.
---
"Development of a Novel Lead for the Chemical Modulation of Kv7 Potassium Channels"


Principal Investigator:
Peter Wipf, Department of Chemistry
Dr. Wipf's lab is seeking to develop a new class of small molecules for engaging potassium ion channels that have potential therapeutic benefit for a wide variety of diseases, such as epilepsy, diabetes, tinnitus, neurodegeneration, and pain. These would represent an improvement over an initial class of drugs that were approved but eventually removed from the market due to significant side effects. Dr. Wipf plans to focus on early-stage clinical development of a new lead compound for epilepsy, and noise-induced tinnitus in collaboration with the Pitt Hearing Research Center.
---
If your lab has produced an innovation with commercial potential and you are considering next steps, contact the Innovation Institute for consultation on programming and funding opportunities at innovate@pitt.edu