When it comes to collaborative innovation, Jeff and Beth Gusenoff have worked hand in glove, or, in this case, more like foot in shoe.
The result so far is two medical devices under development, with support from the University of Pittsburgh innovation ecosystem, and one startup formed.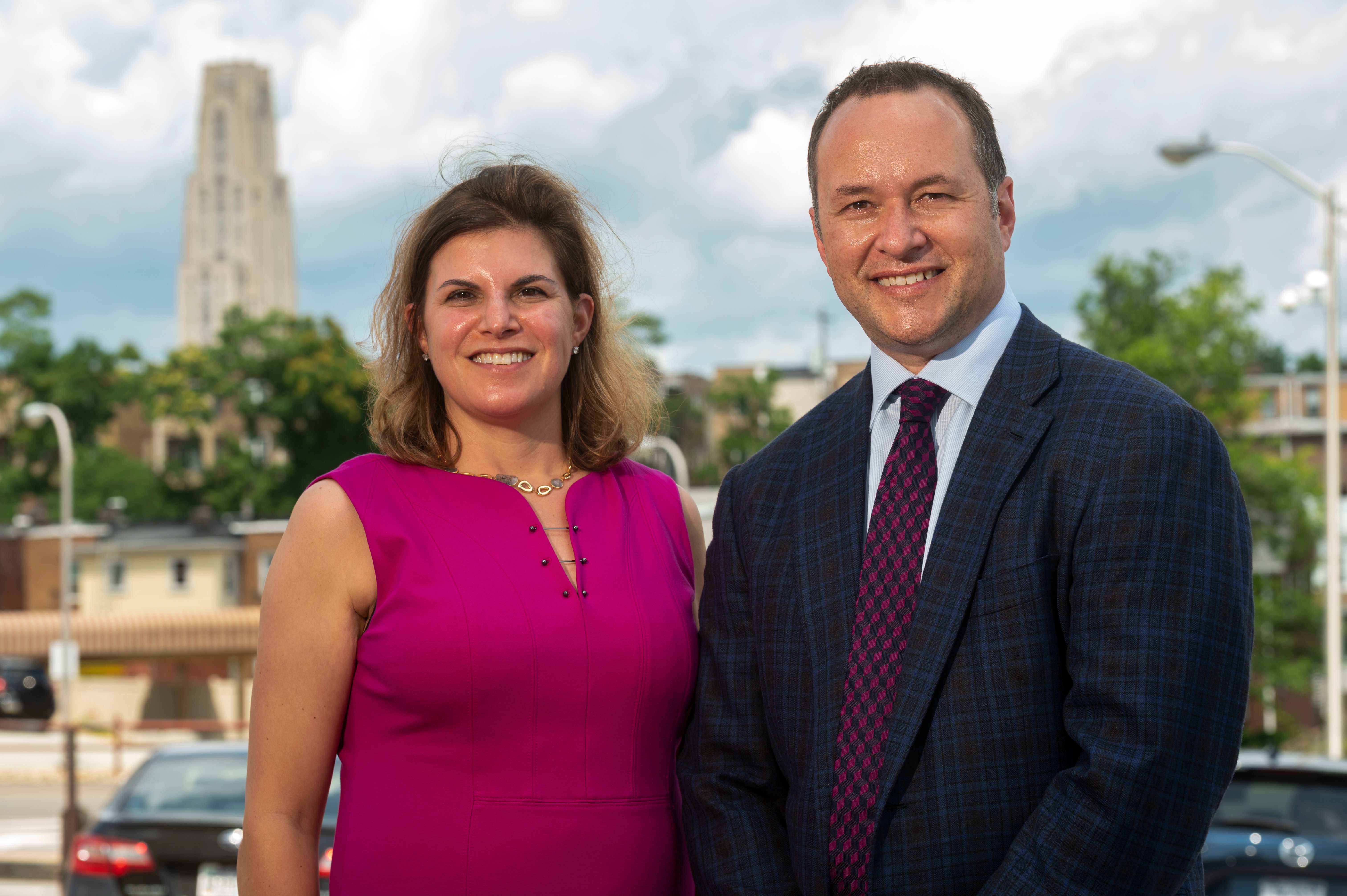 The couple came to Pittsburgh in 2012, when Beth, a podiatrist, and Jeff, A plastic surgeon, were recruited to Pitt to start their pioneering work on fat grafting for foot conditions such as fat pad atrophy and plantar fasciitis.
After surgeries, Beth said she would often find herself with a pair of scissors trying to cobble together makeshift orthotic inserts to relieve pain pressure points.
"We need to invent an offloading device to decrease pressure that patients will be compliant with while they are healing," Beth recalls saying to Jeff.
That's when Jeff, whom Beth credits as having an entrepreneur's approach to problem solving, came up with an idea for an insert composed of several small air-filled compartments. The insert is placed under the patient's foot and the area that is causing the pain is marked, then popped to let the air escape creating a pressure-relief spot.
The device, PopSoleTM, initially received early stage seed funding for development through the Center for Medical Innovation in the Swanson School of Engineering. It then received a grant through the Coulter Translational Partners program, before entering the Clinical and Translational Science Institute's Pitt Innovation Challenge (PInCh) competition, where it also received funding. They also participated in the Innovation Institute's Pitt Ventures First Gear commercialization program where they explored the commercial potential of their innovation by interviewing potential customers while working one-on-one with an experienced business mentor.
"We didn't understand much of the business lingo before getting involved with all of the programs offered through Pitt and working with the entrepreneurs in residence at the Innovation Institute," Beth said. "They have really enveloped us in support as we progressed from starting with an idea and developing it into a product and forming a company to bring it to market."
They also received assistance through the Institute for Entrepreneurial Excellence (IEE), like the Innovation Institute a part of the University's Office of Innovation and Entrepreneurship. The IEE helped them network for different business services, including finding a company to develop their prototype for the device.
The Gusenoffs have completed enrollment in a clinical trial for the device. In a previous trial that focused on healthy adults with foot pain, Beth said participants were dismayed when they had to return the device at the end of the trial.
They envision a two-pronged sales strategy for the device, both through podiatrists recommending to their patients, and through retail channels.
Jeff, who is an aficionado of the Shark Tank T.V. show, would also love to appear on the show and get an investor on board for the retail effort -- maybe Pitt alumnus Mark Cuban?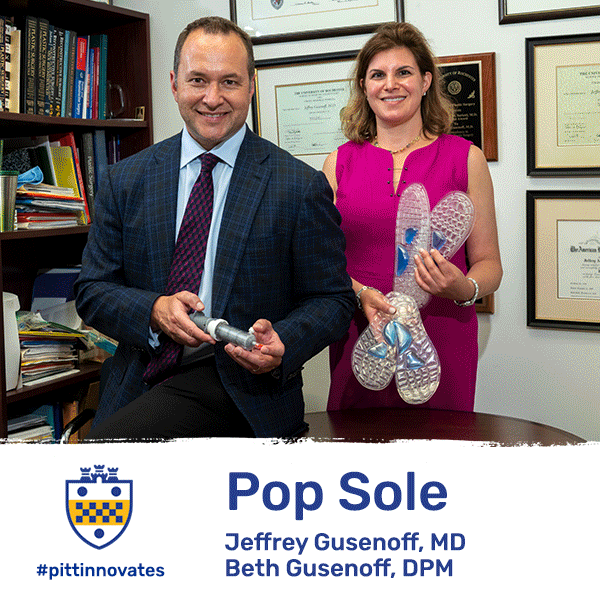 One Idea Leads to Another
While working on PopSoleTM, Jeff Gusenoff had another idea come to him like a bolt of lightning to solve the problem of preparing fat for reinjection during the fat grafting process used in reconstructive and cosmetic surgeries.
Currently, after fat is extracted, it is transferred to a centrifuge where it undergoes a messy process to "clean" the fat by removing blood and other liquids.
Jeff's inspiration for a new device came from, of all things, the Salad Spinner kitchen device. He said his design eliminates the need to remove the fat from a syringe, process it and return it to another syringe for injection -- which can take as long as two hours. He said the device can do the same work in half an hour.
"It really improves the patient experience," he said.

The Push2Spin device reduces the procedure to "clean" extracted fat before reinjecting for cosmetic or reconstructive surgery, from two hours to about half an hour.
Additionally, some procedures can be moved from the hospital operating room to the office procedure room due to the simplicity and ease of use of the device. The Adipose Stem Cell Laboratory in the Department of Plastic Surgery at Pitt has helped to validate initial versions of the device.
The Gusenoffs have optioned the patents on the device and formed a company, Push2Spin Technologies, Inc. They have a partner in Palo Alto, California to assist in taking it through the FDA approval process. If all goes well they are aiming for a soft launch of the device in the spring of 2022.
What's next for the couple is hard to say. Beth says Jeff is constantly thinking of ways to improve processes, so she wouldn't be surprised if they are pursuing another new idea soon.