Treatments for pain that do not involve the prescription of addictive opioids are greatly needed. Nerve stimulation devices have proven to be effective at treating pain, but they are expensive, require surgeries to implant and remove and have a high failure rate.
A team of Pitt innovators are developing an injectable nerve stimulator that biodegrades inside the body.
The team, under the name Vanish Therapeutics, took the top prize in the 11th annual Michael G. Wells Student Healthcare Competition, which includes a check for $20,000 to help the team accelerate on its path to commercialization and impact.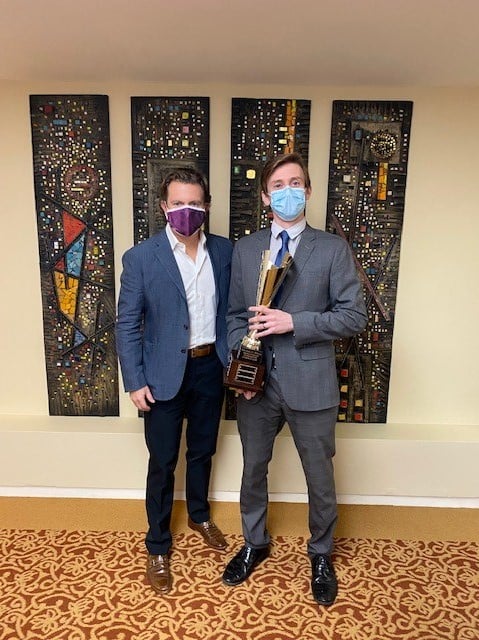 PhD student Kevin Woeppel receives the top award in the Wells Student Healthcare Competition from Michael G. Wells.
"This was the best field we have ever had," declared Michael Wells, the Pitt trustee and healthcare investor who sponsors the competition's top award and each year serves as one of the judges.
"I serve as a judge on the Wharton Business School's annual pitch competition, the oldest in the nation, and I can say the quality of the presentations this year was right on par," he added.
Pitt innovation teams over the past 11 years have used the Wells competition as a launchpad. Of the 60 finalist teams, nearly 30 percent have gone on to form a startup company, raising a combined $30 million in additional capital along the way.
Kevin Woeppel, a bioengineering PhD student, who served as the entrepreneurial lead for the Vanish team, said the winnings from the competition will be used to do bio-compatibility testing experiments as they work towards clinical trials.
Also co-founding Vanish is Trent Emerick, assistant professor of anesthesiology and designated pain specialist for the Pittsburgh Steelers, and Pitt bioengineering professor Xinyan Tracy Cui.
Two other teams receiving $10,000 each included NextGen ET, which is developing an improved endotracheal tube designed to prevent ventilator-associated pneumonia, a common problem associated with current tubes that results in approximately 300,000 deaths each year.
Wells commented that entrepreneurial lead for NextGen ET, PhD student Lauren Grice, was one of the most polished presenters in a student pitch competition that he has encountered.
The innovation comes from the lab of Carl Snyderman, professor of otolaryngology and neurological surgery. The team includes Garrett Conyan, an entrepreneurial postdoctoral fellow in cardiothoracic surgery who has been part of several innovation teams in his time at Pitt, along with Ross Beresford, who is pursuing a master's degree in medical product innovation.
The other $10,000 winner was Reach Neuro, which is developing a spine stimulation device that has demonstrated in two live patients the ability to provide partial motor skill recovery in stroke patients. A video of one of those people being able to grasp an object in her hands for the first time in several years following her stroke amazed Mr. Wells and the other judges.
The principal investigator for Reach Neuro is Marco Capogrosso, assistant professor of neurosurgery and director of the Spinal Cord Stimulation Laboratory, and the entrepreneurial lead is a PhD student in his lab, Marc Powell. Rounding out this multi-disciplinary and multi-institution team is Dr. Douglas Weber, Professor of Mechanical Engineering and Neuroscience at Carnegie Mellon University, Jordyn Ting, a PhD student in bioengineering at Pitt, and Peter Gerszten, professor of neurosurgery.
In addition to Mr. Wells, judges for the competition included Jerry Vardzel, president and CEO of Pittsburgh life science accelerator and incubator, LifeX Labs; Max Fedor, director at LifeX; Julie Gulick, president and CEO of Pittsburgh product design firm Bally Design' and Sian Godwin, director of business development and licensing at pharmaceutical company Sandoz Inc.
Paul Petrovich, assistant director of business development at the Pitt Innovation Institute, who coordinated the competition, encouraged all the teams, whether they won a prize or not, to continue on their path to commercialization.
"We look forward to continuing to work with all of you and direct you to other resources available through Pitt and the greater Pittsburgh innovation ecosystem," he said.
If you are a Pitt faculty, student or staff member with an innovation that you are interested exploring for commercial potential, contact the Innovation Institute at innovate@pitt.edu.
Other finalist teams in the 2021 Wells Competition included:
Aneurysm Prognosis Classifier
About 4.5 million people have abdominal aneurysms. The average costs is $40,000 over 4 years for imaging surveillance of these aneurysms. The team is developing a new blood test to measure risk of rupture that would dramatically reduce these costs.
Cerebral Aneurysm Test
50 percent of patients with cerebral aneurysms die before reaching the hospital and 33 percent of survivors have severe disabilities. Current aneurysm diagnosis is invasive, expensive and dangerous. The innovators are developing a cerebral aneurysm blood test that provides risk stratification and probability of rupture, as well as a therapy that will reduce aneurysm progression, reducing the need for surgery.
YouBiotic
The innovation team has developed a method to train bacteria to consume dietary fats to create a first-of-its-kind probiotic.
READ.ai
Strokes during surgeries can often go undetected. The innovation team is developing a real-time machine learning platform for detecting strokes during surgery, allowing surgeons to take immediate corrective measures.