In honor of Black History Month, the Innovation Institute is highlighting the life of William Hunter Dammond, a civil engineer and inventor of a train signaling system that bore his name.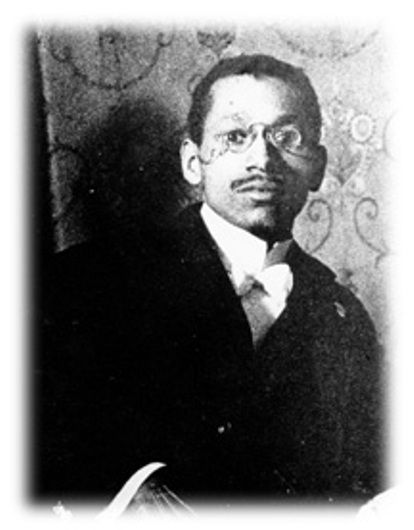 He also was the first black graduate of the University of Pittsburgh.
Dammond was born in the shadow of the University in Pittsburgh's Hill District, the son of a sailor and porter who served in the Union Navy during the Civil War. His mother, Lucy Dorsey, was a deaconess at Bethel African Methodist Episcopal Church.
He graduated from Pitt in 1893 as one of the few black civil engineers in the nation, after first attending the Park Institute preparatory school, where he excelled in math.
Dammond initially held jobs as a printer, clerk, and sewer contractor before heading to the segregated south to begin a career as a math professor, first at Paul Quinn College, 1897–98. He then taught in Ohio at Wilberforce University, 1899–1901, another African Methodist-Episcopal college.
But his passion was engineering. He wanted to make things. He gave up academia and moved to Detroit, where he was employed as an assistant bridge engineer for the Michigan Central Railroad.

In 1903, Dammond received a patent for an electric track circuit signaling system that represented an improvement over manually operated block signals. Three years later he received a second patent for a "Safety System for Operating Railroads," which controlled the movement of trains by signaling the condition of the track ahead.
Around 1910, Dammond took a trip across the Atlantic to explore the market for his inventions in London, and his family joined him soon after. He had married and had a son by then.
The onset of the World War I disrupted those plans and he obtained employment as a bridge designer in Nottingham, England, where he remained for six years.
He returned to the United States in 1916 and went to work in the engineering department at U.S. Steel, then the largest company in the world, and then Boston Structural Steel in Suffolk, Massachusetts.
In 1920s he moved to New York City, where he became a structural draftsman with the New York City Board of Transportation.
While the Dammond track circuit signaling system was used by numerous railways along the East Coast corridor, he had to fight the rest of his life to gain recognition for his inventions, underscoring the disadvantages he suffered for being black.
In 1949, the Chicago Defender, a national black-owned newspaper, featured Dammond and his fight to receive credit for his work.
Dammond died in New York City on December 8, 1956.
In 2000, the University of Pittsburgh corrected its official history to credit Dammond as its first black graduate.
Source: Barksdale-­Hall, Roland. "Dammond, William Hunter." African American National Biography, Eds. Henry Louis Gates Jr. and Evelyn Brooks Higginbotham. Oxford African American Studies Center